We handle the probate process
Because going it alone is more than you should have to handle.
The probate process brings stress to your life when you least need it.
If you're reading this, you probably just lost someone you love. Our condolences. On top of grieving the loss, you're faced with what to do with their assets. You just want to make sure everything goes where it's supposed to go, but not knowing how the government will handle it can be scary.
Our Maryland probate attorneys take the stress out of the probate process.
We've worked with many people just like you to help reduce the stress of probate and make sure your loved one's assets go where they belong.
Client-Focused
You deserve a probate attorney who truly listens and works in your best interest. We're always here for you.
Local
For over 20 years, we have been committed to serving Anne Arundel, Maryland and surrounding communities.
A Step Beyond
Get more than just the right paperwork. Get the extra care you deserve in the most difficult of times.
What our clients are saying
Greg Jimeno and his staff were delightful to work with and extremely competent and thorough. [We}heartily recommend Chesapeake Wills and Trust for anyone hoping to make their future secure.
We had a revocable trust drawn up. Greg Jimeno did an excellent job. Answered all of our questions thoroughly. Highly recommend Chesapeake Wills and Trusts.
Jimeno is a knowledgeable and informative attorney. He doesn't sugar coat your situation. You'll know where you stand on each issue. One of the best to have on your side.
Client names redacted for their privacy. Testimonials were submitted by clients to our online location and legal listings.
We know how difficult this time can be and are ready to lift that burden from your shoulders.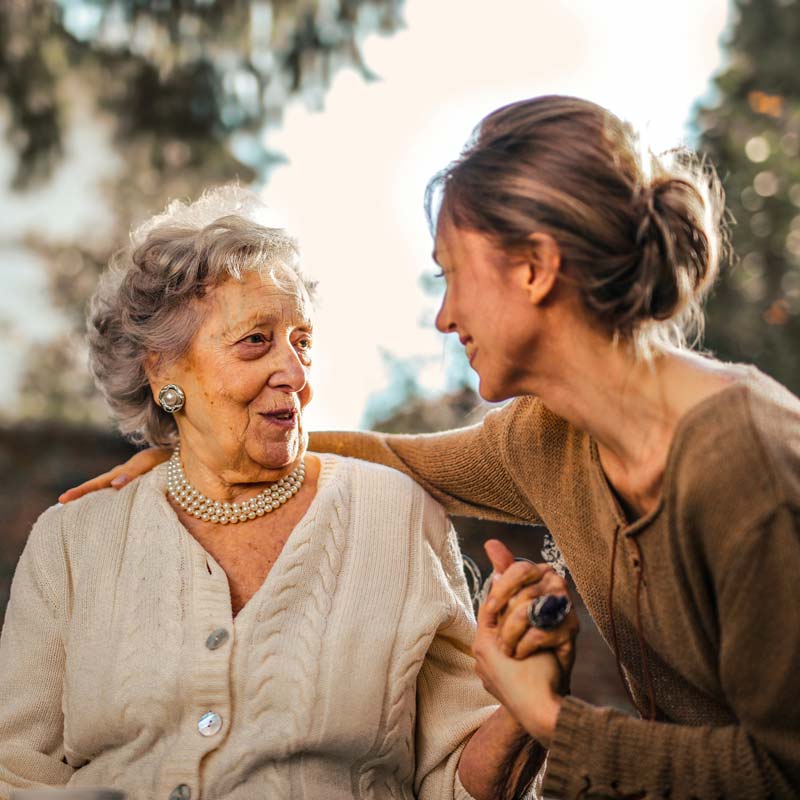 1. Hire Our Probate Team
We review your loved one's situation and guide you through the process.
2. We Take Care Of The Details
We'll take it from here and handle everything for you.
3. Take Care of Yourself
Take the time you need to grieve and be with loved ones.
Maryland Probate Attorneys
If you're coming to us for help with probate, you have probably just lost someone you love. We are so sorry for your loss. The last thing you want to deal with right now is the stress and chaos that can go along with litigating a loved one's assets and debt just after they passed. 
Whether your loved one has a clear estate plan, or no plan at all, the probate process adds unneeded stress to your life during a difficult time. Not knowing how the courts will distribute your family member's assets can feel scary. 
At Chesapeake Wills and Trusts, we believe everyone deserves the time they need to grieve the loss of a loved one and probate shouldn't get in the way. That is why our team of Maryland probate lawyers is committed to helping reduce the stress of probate so you have the time you deserve to focus on your family and yourself.
Here's how it works.
Hire our Probate Team.

We'll review your loved one's assets and any documentation they might have to determine how to handle their estate.

We take care of the details

 and handle everything for you.

Take Care of Yourself.

We'll take it from here. You take the time you deserve to grieve and be with family and loved ones.
So, whether your loved one had a plan in place for their estate when they passed, or you're starting from scratch and worried about what will happen to everything, we're here for you. Schedule a call today. Our team of Maryland probate attorneys are ready to work for you.
How We Serve Our Clients Anne Arundel County and All Across Maryland
Elder Law
3 in 4 senior adults over the age of 65 will require long-term nursing care at some point in their life. Our Elder Law Lawyers offer estate planning, Medicaid crisis response, and other services to help senior adults plan ahead or respond to a crisis in health requiring nursing care.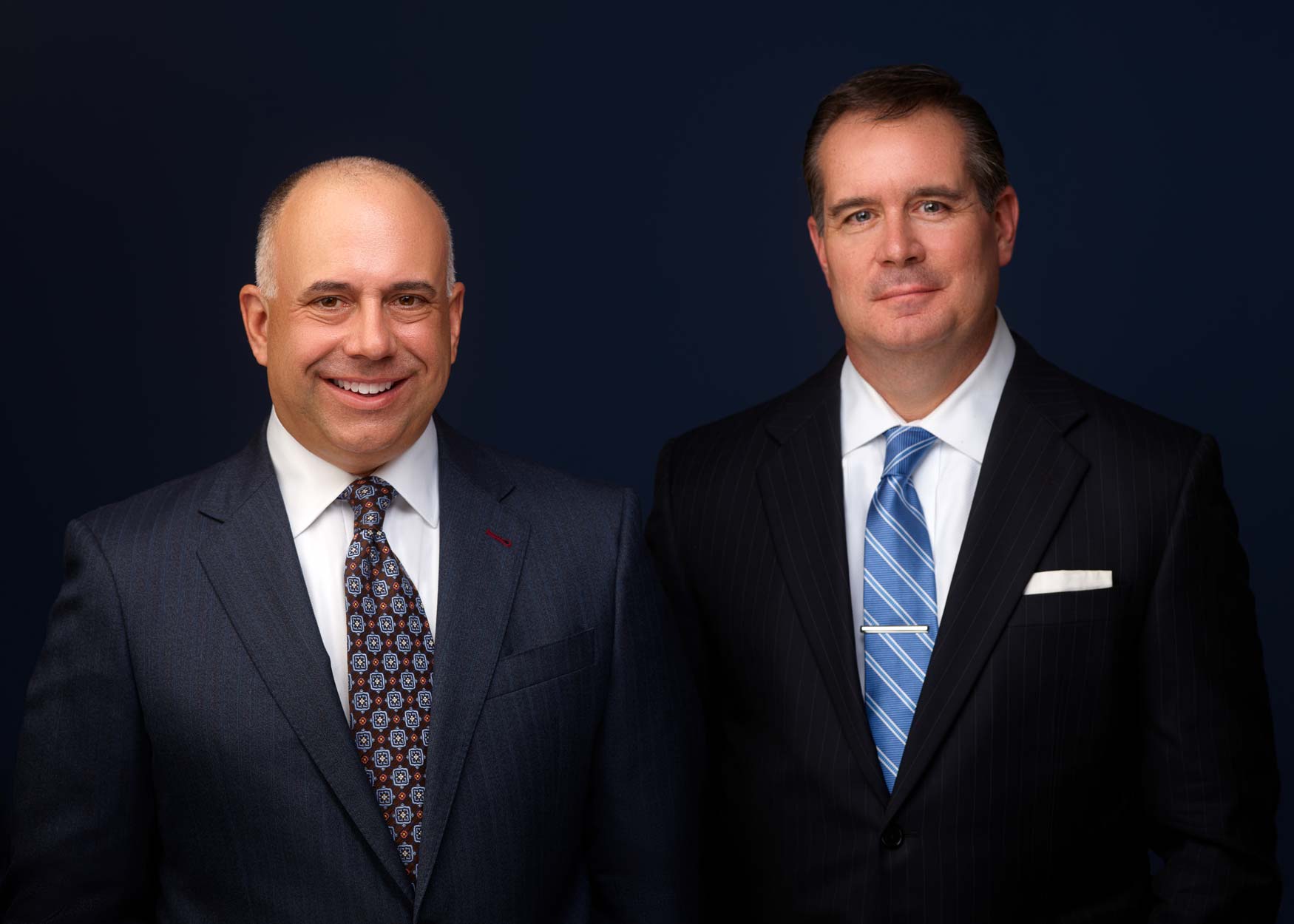 When working with our team, you can expect us to:
Treat you like our own family
Always explain the next steps
Work for your best interests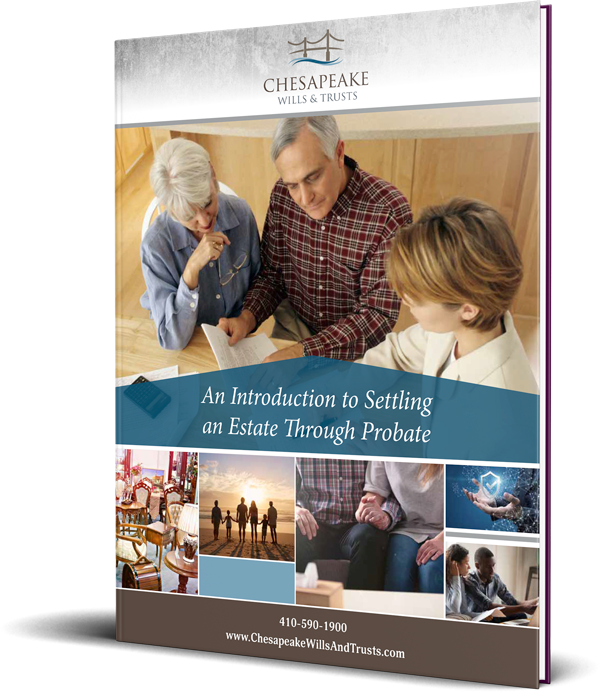 An introduction to how to settle an estate through probate.
Losing a loved one is difficult enough without the added stress of having to make important financial decisions while grieving. If you are faced with the prospect of probating a loved one's estate, chances are you have plenty of questions. This free report has the answers.
Answers to a Few Common Questions We Hear From Our Clients:
The personal representative is responsible for settling and distributing the decedent's estate as efficiently as possible by following the instructions contained in the decedent's will.
While every probate is unique, here is a partial list of the duties required to settle an estate in a "typical" probate:
Locate and file the Last Will and Testament with the local court
File required probate documents with the court
Ascertain, and notify, all known creditors of the estate
Secure the decedent's personal residence and tangible personal property
Locate, inventory, custody, close, and transfer personal assets/accounts
Process and receive life insurance death benefits
Pay debts and expenses associated with the last illness and funeral
Make payments to creditors, discharge obligations, and obtain creditor releases
File appropriate tax returns (federal and state) and make appropriate tax elections
Pay estate taxes and final personal income taxes
Obtain tax releases and closing letters from local courts and the IRS
Make specific bequests, as well as partial and final distributions, to beneficiaries and obtain releases
Provide complete, detailed accounting to the local court and estate beneficiaries
File closing paperwork/documentation with the court
Accomplishing all of this would be difficult in and of itself. When you factor in the grief that accompanies the loss of a loved one, the situation can become overwhelming.
If you have been named as personal representative, we can lift this burden off your shoulders and handle the most difficult aspects of the process: communicating with the court; managing the accountings; resolving conflicts with creditors; and coordinating with other professionals such as accountants and financial advisors.
It is important to note that the personal representative can be held financially and legally responsible for failing to properly settle the estate, even if any mistakes were unintentional. (Learn the Biggest Mistakes People Make in Probate.) Working with a qualified probate attorney can protect you against this possibility.
You are not alone during this difficult time. We are here to help you every step of the way
Get a crash course on the probate process in Maryland
There is a lot to be considered when it comes to handling probate in Maryland. You don't need to know everything, but you might want to know the basics.
Our attorney, Frank Gray, gives you everything you need to know about probate in Maryland in seven minutes or less. Take a look!
Frequently Asked Questions
Answers to a few common questions we hear from our clients.
What is Probate?
Probate is the court-supervised process of identifying the assets, debts, and beneficiaries of the person who passed away (the "decedent") and making sure those assets go to the right people.  If the decedent had a will, the will tells us how to ultimately distribute their property.  If the decedent died without a will, they died "intestate" and the law tells us who gets what and how much.
I was just named the Personal Representative in a will, what do I need do?
If you have been named the Personal Representative of an estate, your main job is to make sure the wishes of the deceased are honored while also fulfilling the requirements of the probate court. This begins by opening an estate.  After opening the estate with the Register of Wills, you will need to make sure the appropriate paperwork is filed along the way, assets are properly appraised, creditors are notified, and ultimately that assets are distributed correctly.
Doesn't having a will avoid probate?
A will allows for the decedent to control some of the most important part of the probate process, but it does not avoid probate. A will can tell us who the Personal Representative is going to be and even tell us who gets what from the property of the decedent, but the probate process is ultimately necessary to use the court's power to change title to assets and conform with the legal requirements of an estate.
How long does the probate process take?
The probate process usually takes about 9 months to complete, but sometimes it can take considerably longer if there are challenges to the legitimacy of the will, questions about the value of assets, or doubts about the validity of claims made against the estate. Creditors are allowed 6 months to file claims against the estate. After the required waiting period passes, the Personal Representative can pay valid claims and distribute assets the beneficiaries.
Does everything the decedent owned go through probate?
No. Many assets are non-probate assets, which means they were either jointly owned with someone else or had a designated beneficiary that allows for a quicker distribution. A probate asset means the asset was solely owned by the decedent at the time of their death, and those assets must go all the way through probate before being distributed. 
Are there benefits to avoiding the probate process in Maryland?
Yes. While we are here to help you, either way, it is definitely advantageous to set up your estate in a way that helps avoid the probate process. Here are a few reasons why you might want to create a plan to avoid probate:
Probate is time consuming
Probate can cost a lot of money
Probate is a public process
Probate delays distributing assets
Our estate planning attorneys can help you avoid the probate process by creating a clear estate plan.
Learn more about Probate in Maryland
Want to learn more? Here are our latest articles written by our Anne Arundel-based probate attorneys to help you better understand how to protect your home and life savings.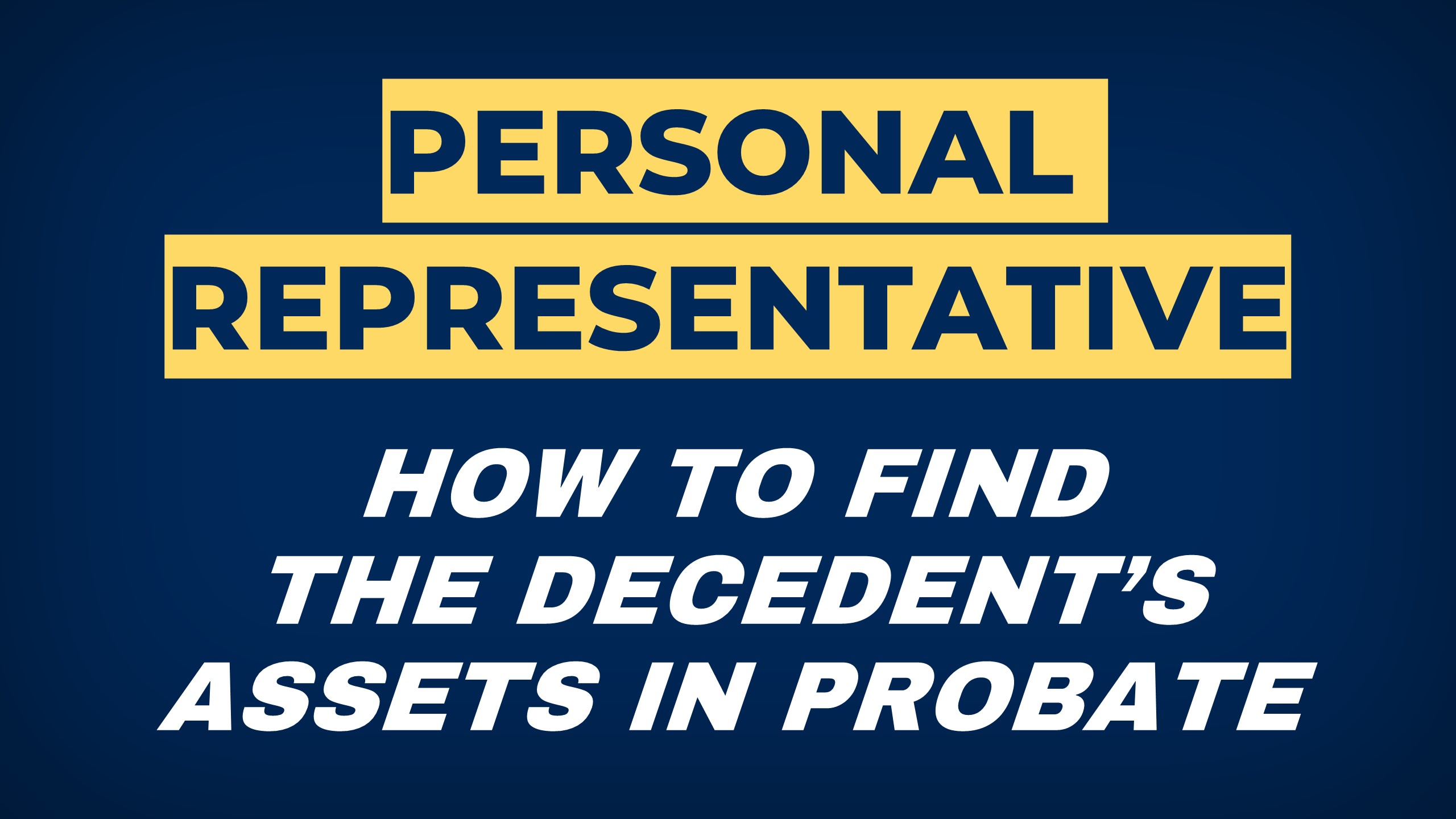 When you become the personal representative of an estate, one of your functions is to locate the assets of the decedent. If the decedent was well organized and had an estate planning binder, that's the first place to start. Well organized the state planning binder...
Complete the form below and someone from our team will be in touch shortly or call now at 410-590-1900.